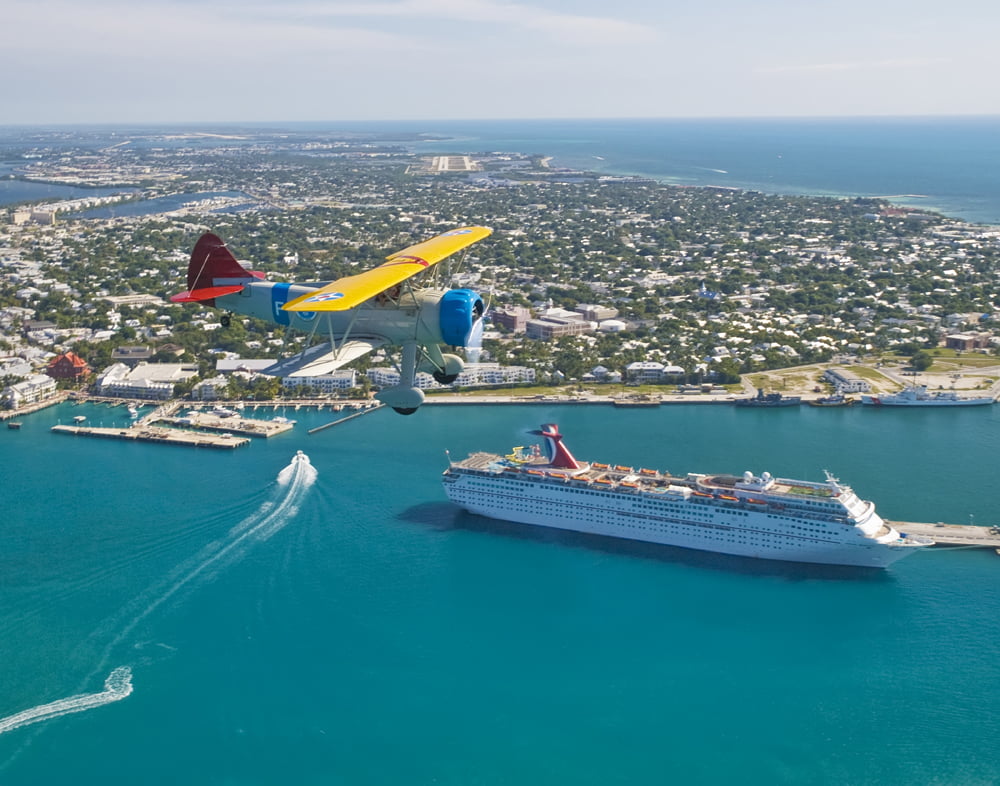 Let's continue our look at great ways to see Key West with an introduction to some active and exciting tours that will let you catch the island from a different perspective. Key West snorkeling adventures, jet ski tours, and biplane flights combine scenic beauty with action and thrills to make for some of the most memorable vacation experiences.
Key West Snorkeling Adventures
The great thing about a Key West snorkeling adventure is that it combines two very different ways to see Key West into one amazingly fun time. A snorkeling trip starts out with a fun boat ride offshore. It's a great time to look around and take some photos as your party makes the short run across smooth waters to the offshore reefs. Everybody loves boats, and if you have kids in the group, they may be more excited about the boat ride than the snorkeling. But don't get me wrong – the snorkeling is awesome. Simple and easy, you just slip on the mask and fins and slide into the watery wonderland to take in views that most people will only see on the National Geographic channel. Colorful fish, peaceful sea turtles, strange and fantastic coral formations; they are all there just below the surface off Key West. It is very interesting to look up toward shore to see town on the horizon, then look down at the bottom and imagine it stretching in to where the dry land begins. Those with a geological bent may find themselves contemplating the ancient seas and coral/limestone formations that formed the Florida Keys. But most people will simply be captured by the wonder of underwater Key West. With a range of tours that combine other water activities or a sunset cruise with snorkeling, Cool Key West lets you make a day of enjoying the offshore sights of Key West.
Key West Jet Ski Tours
A guided jet-ski tour around Key West is another great way to see Key West from the water. This is what you might call an "interactive tour". Take a seat on your own powerful machine and hit the throttle to bring it up on a plane at cruising speed and flash across the water. It is very exciting, sporty like a motorcycle, yet very safe and easy. Turn the handlebars and dive into a carving turn, throwing a rooster tail of spray high in the air. Or just mellow out and motor along, taking in the sights on the shoreline and out to sea. A jet ski tour is just the right combination of thrill-ride and sightseeing. Get sea-level views of the island, with the freedom to run in for a closer look if you spot something interesting on shore. It is also simple to explore the deserted sandbars and mangrove jungles, or idle to a stop and look around and down into the clear water to catch glimpses of the natural world. Then, zoom ahead for another high-speed rush. A round-the-island jet ski tour only takes 2 hours, and it is perfect for singles, couples, groups, or families with kids.
Key West Biplane Tours
Have you ever ridden in a biplane? Imagine sticking your head, covered in a classic leather flier's helmet, over the side of an open cockpit and looking down at Key West as your pilot banks the classic aircraft into a turn. You feel the wind in your face and hear the roar of the engine, see the tree-lined streets, white sand beaches, and crystal-blue waters with coral reefs and sand bottoms clearly visible. Tiny people and cars move below and you want to shout and wave in pure excitement. Then, the pilot swoops lower and you zoom across the water offshore with the waves flashing below. A Key West biplane tour is the best way to capture the true vision of the island gem that is Key West, placed perfectly in its setting of turquoise water. And the flight itself is simply one of the most thrilling things you will ever do. This is definitely one for the bucket list, and it gets better: are you up for an air-show style acrobatic stunt plane flight? For sure you may find yourself craving more after the first taste of the wild blue yonder. Why hold back? Cool Key West offers easy access to aerial adventures from the mild to the wild, so fasten your seat belts and see Key West from the air.
Read More