Key West Jet Ski Tours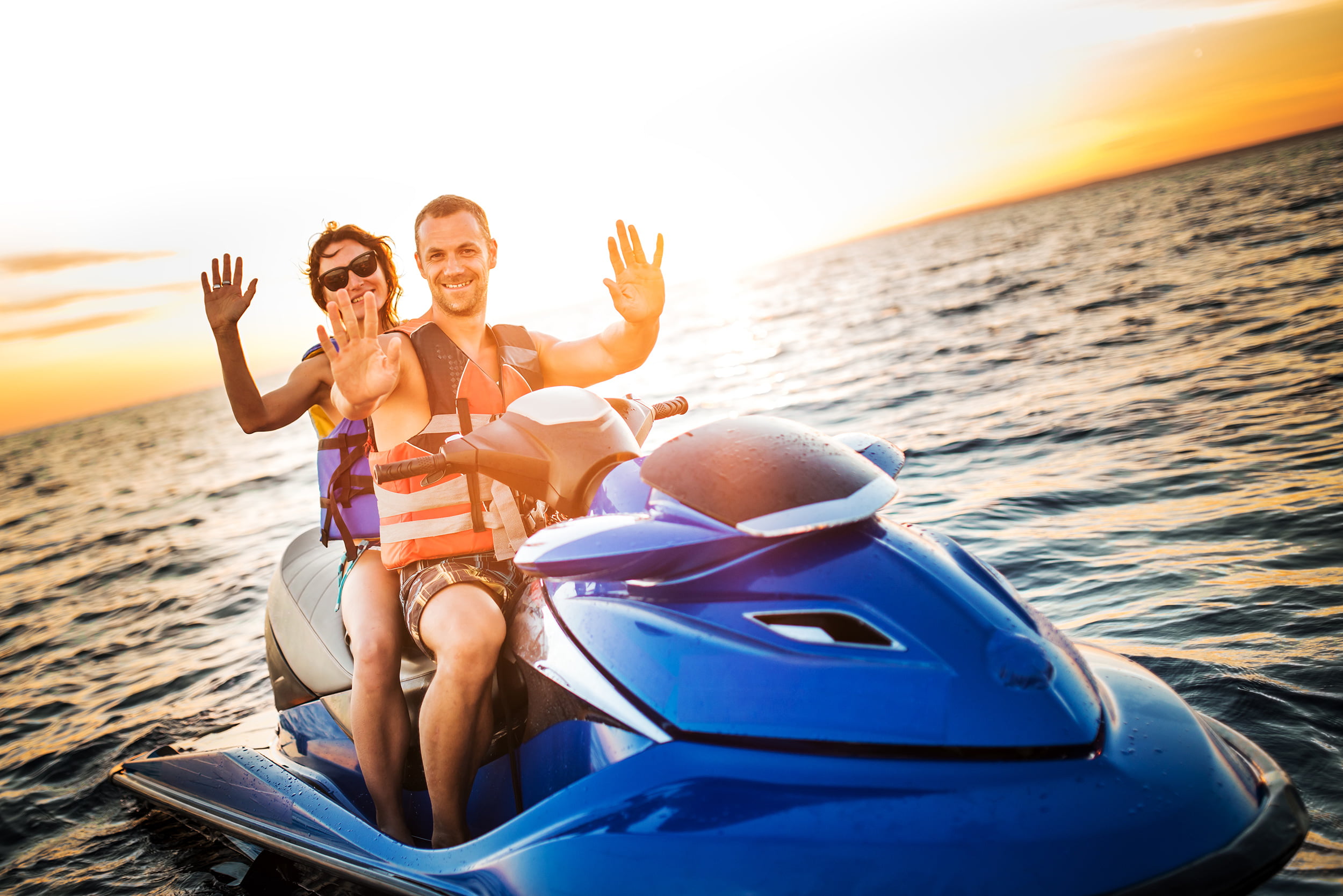 Want to see the entire island? Our Key West Jet Ski Tours were made for YOU! Professional guides show you the way. Solo, couples or as a group – with single & two-seater options – one thing is for sure, Jet Skis are top-notch FUN for Key West vacation adventurers!
Read More
Travellers like you also liked...
With Key West Split Fishing Charters the overall cost of the charter is split between several people in order to reduce the cost for all.
... Read More

Our Key West Party Boat Fishing Charter is the best option for an affordable day on the water with friends, family.
... Read More

Experience the thrill of Key West deep sea fishing to the fullest on a hunt for trophy game fish in the open sea with your own private boat, captain, and crew
... Read More

Enjoy an unforgettable morning or afternoon of sailing, kayaking and snorkeling in the pristine marine wilderness of the Key West National Wildlife Refuge.
... Read More

Spend an unforgettable day sailing emerald waters, kayaking mangrove-shaded channels and snorkeling coral gardens in an unspoiled marine wilderness.
... Read More

Board the Dolphin Watch & Snorkel Cruise Key West for a journey to observe the beauty of Key West dolphins.
... Read More

Indulge your senses as you pass over natural sands through the blue waters of Key West into the playgrounds of wild dolphins on Dolphin Snorkel Sea Safari.
... Read More

If you want to go beyond snorkeling and experience the world's underwater beauty in the safest and easiest way possible, try Snuba®!
... Read More

Envision yourself swimming freely among the vibrant fish of the Florida Keys during a 3.5-hour Key West snorkeling tour.
... Read More

3 hours

Instant Confirmation

Beautiful Key West is surrounded by sparkling blue waters of the Gulf of Mexico, making kayaking and snorkeling the perfect way to spend a fun day in the sun.
... Read More

6 hours

Instant Confirmation

Get in touch with one of nature's friendliest mammals on this relaxing 3-hour dolphin cruise from Key West.
... Read More

3 hours

Instant Confirmation

Discover a different side of Key West as you explore a secluded paradise in the Florida Keys backcountry on this Island Adventure.
... Read More

4 hours 30 minutes

Instant Confirmation

Set sail aboard our classically-styled schooner as she departs Key West's Historic Seaport for a full day of sailing and exploration through the  pristine waters of the Gulf of Mexico.
... Read More

6 hours

Instant Confirmation

Set sail on a spacious catamaran and head out to explore North America's only living coral reef.
... Read More

3 hours

Instant Confirmation

This Caribbean-themed trip offers two bucket list items that Key West is famous for - a tropical coral reef and amazing sunsets.
... Read More

3 hours

Instant Confirmation

Rise and Reef Key West Snorkel Trip on The 65 foot custom built Sandie Cat.
... Read More

3 hours

Instant Confirmation

Dip and Sip Key West Snorkel Trip on The 65 foot custom built Sandie Cat.
... Read More

3 hours

Instant Confirmation

Sunset Sip & Sail: Come see the legendary Key West Sunset on a Brand New Catamaran Sail Boat.
... Read More

2 hours

Instant Confirmation

3 Hour Sunset Snorkel Sail See the Living Coral Reef watch the World Famous Key West Sunset Have a cool beverage.
... Read More

3 hours

Instant Confirmation

If you're a cruise passenger only in Key West for a day, don't miss out on the express power catamaran, immerse yourself in nature as you swim in the warm, clear waters among schools of tropical fish, soar above the water on a parasail, ride jet skis and more.
... Read More

3 hours 30 minutes

Instant Confirmation

The Sunset Watersports Dolphin watch triple combo is the best way to watch Dolphins, Snorkel the Key West tropical waters, and see the world famous Key West Sunset all in one trip.
... Read More

3 hours

Instant Confirmation

Explore Key West in a fun and unique way!
... Read More

2 hours 30 minutes

Instant Confirmation
Call
(855) 274-1023
to speak with a Destination Specialist