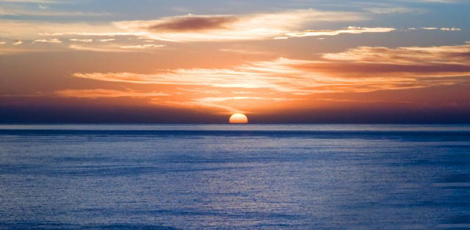 One of the great things about visiting Key West is the fact that it is a small island with a multitude of interesting things packed close together, making it easy to take in the sights. Most everyone knows about strolling along Duval Street, walking to the Southernmost Point, riding the Old Town Trolley and Conch Tour Train, and cruising over to Mallory Square for the Sunset Celebration. But what many people don't know is that there are ways to see Key West differently – from new angles and altitudes, and via modes that range from adventurous and exciting to quirky, to purely sublime. In the next couple of posts, we will take a look at 5 interesting ways to take in the unique beauty of Key West.
Key West Electric Cars
One of the best ways to explore the neighborhoods and catch the street scenes of Key West is to zip around in a fun and funky electric car. Cool, quiet, easy to operate and environmentally friendly, Key West electric cars are like big golf carts. You could not ask for a better way to see the sights on a Caribbean island. Open-sided and airy, an electric car is perfect for beating the heat and taking photos on the move. Small and maneuverable, it will take you in and out of tight spots and down quiet neighborhood streets with no hassle or fuss. An electric car is the perfect way to get to a lot of places in a short time if you are only in town for a day or an afternoon. Or if you have already done a lot of walking, and just want to go back and hit a few favorite spots one more time. Or for just plain fun and convenience for groups of four or six people who want to enjoy the sights together. With free drop-off service at your hotel, cruise ship dock, or at the Key West Express Ferry dock, and 4-hour half-day as well as full-day availability, an electric car might very well be the perfect way for you to see Key West.
Key West Sunset Cruise
A Key West sunset cruise is perfect for those who would like to see Key West harbor and the city skyline from offshore. This sightseeing mode is interesting in two ways. First, it provides an opportunity to reflect on the island from a historical perspective. Particularly if you choose to embark on a sailing craft, as with the Wind and Wine Key West Sunset Sail, it is easy to imagine the island as it presented itself to so many seafarers of generations past. Looking over the rail toward shore, or on a heading for the harbor powered by wind alone, the experience is not that different from it may have been for sailors 150 years ago. The second advantage of the sunset cruise is that it is one of the most romantic ways to see the sights. To see the island bathed in soft twilight, then look out to sea at nature's light show, really brings on the classic tropical vacation effect. These are the sights that will remind you why you came to the island in the first place. For lovers, wine lovers, and sailors, a Wind and Wine Key West sunset sail is one of the best ways to see Key West and a definite vacation must-do. Cool Key West is glad to be able to offer this cruise, along with a variety of other sunset cruises to match a wide range of needs and interests from the party-hearty to family fun times.
Read More