Key West Live Music – The Soundtrack of Paradise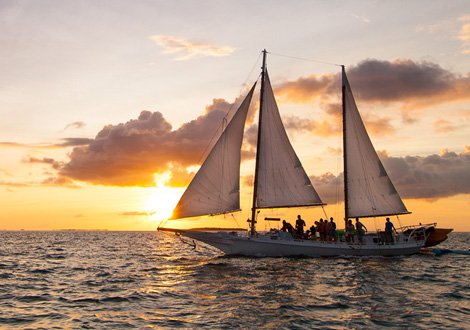 Being a resort island that is renowned for its nightlife and multitude of bars, clubs, and other types of party venues, it will come as no surprise that Key West has a very rich live music scene. Many local artists, as well as world-class acts, can be found performing on any day of the year, and common descriptions of the Key West live music scene note that the island may have more live music venues per capita than any other city in the world, and probably just as many talented musicians per square mile as Nashville and New Orleans. Whether you are looking for blues, calypso, country-western, hip hop, jazz, reggae, retro, or Key West's own "trop rock", something is always happening in town. As a bonus, the majority of live music joints have no cover charge on most nights, and there are several that feature outdoor performance spaces that let you enjoy great sounds in a tropical setting.
Of course, when they think of Key West live music, many visitors hit the town with Jimmy Buffet on their minds. And though it is rare to find the man himself in town, it is true that the Margaritaville Café opened in 1985 as Buffett's first, does offer live music daily. But there are also many other spots that are old favorites with locals and visitors alike. Among the good joints to catch a show at, the Schooner Wharf Bar is a nice choice for its waterfront outdoor setting and good happy hour deals. Captain Tony's Saloon is another classic spot, said to be the original Sloppy Joe's drinking roost of Ernest Hemingway, and home to plenty of old-time Key West atmosphere as well as a steady line-up of local performers. The new Sloppy Joe's, right on Duval Street, features crowds, noise, and packed-house partying to go with the music from around 12 pm to late every day. The original Hog's Breath Saloon on Front Street is another active venue with outside seating and a sometimes rowdy crowd, depending on the season. For a more laid-back bar experience, the Green Parrot, on Whitehead Street a block off Duval to the west, is good for a dose of local ambiance, honest drinks, and quality live music.
If you are looking for a more sedate setting, where music, cocktails, ocean breezes, and sunset can combine to set a pleasant tropical mood, you may want to try the Sunset Deck at the Pier House hotel at the head of Duval Street. The hotel also puts on occasional outdoor concerts that give audiences a chance to see a big-name band while standing on the beach at the water's edge. Just across the way, the Ocean Key Resort features the Sunset Pier bar, which offers live music, cocktails, and food in a waterfront setting. For a more casual (and economical) outdoor live music experience, hit Mallory Square for the Sunset Celebration. It is a fun scene, with always at least one band playing, as well as various solo artists and other performers working on a pass-the-hat basis.
For those who like big live music festivals, and fans who love to experience their favorite songs performed by the original artists, The Key West Songwriter's Festival is a must-see. The festival is by far the largest musical event held in Key West, drawing both fans and performers from across the country into town for 5 days of concerts and special events. The biggest songwriter festival in the US, it hits town each year in May. Organized by BMI Nashville, America's largest music rights organization and a major incubator of fresh talent and new music, the Key West Songwriter's Festival pulls in many of America's finest songwriters from Nashville and elsewhere. With over 150 artists on tap, and many special shows including studio performances, sunset cruises, concerts at the historic San Carlos Institute and Tropic Cinema, pool parties, a champagne brunch performance, a dinner show, and free street concerts, there is something here for every live music fan.
Any night of the week is a great night to catch some Key West live music. Jazz, rock, calypso, or classical, whatever you like is on offer in a huge variety of cool venues so come on down to the island and be part of the scene.
Read More