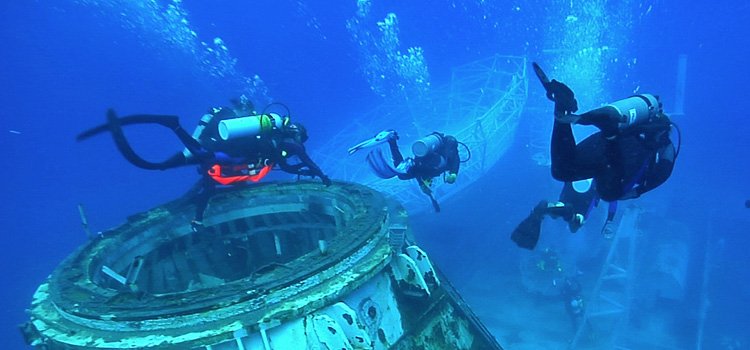 Are you up for a real adventure in Key West? Do you love the water and want to know more about the amazing coral reef environment unique to the Florida Keys? Have you ever dreamed of exploring the mysteries of a shipwreck? You can do it now with Cool Key West as your connection to Key West SCUBA diving courses. Get your feet (and head!) wet for the first time with a Dive-in-a-Day Resort Course that requires no bookwork or certification. Make your move into the world of SCUBA with a PADI Open Water Certification Course. Or take your SCUBA skills to the next level with PADI Advanced Open Water Certification.
Whatever you are ready for, beginner or advanced, Key West is the absolute best dive site in the US. If you are a newbie doing your Open Water course, you will complete your training dives among the coral gardens of the only living reef in continental US waters. An easy day of classroom work and study, a bit of pool work, and you will go out on real dives where you drop in from a boat and come face-to-face with incredible sea life. With your PADI Open Water Diver Certification complete, you can join other certified divers on dives up to 60 feet in depth at dive sites around the world. You will be authorized to rent tanks and get air refills, and move on to the PADI Advanced Open Water Course, prerequisite to more demanding dives and expert-level specialty certifications.
If you are already an experienced diver, do your PADI Advanced Open Water Certificate in Key West. The dives alone are worth the cost of the course, so your AOW Diver card and newly-refined skill set are just great bonuses on top. Get in a deep reef dive in the Florida Keys National Marine Sanctuary, for example the Marquesas Reef Line with its coral caves. Or check out Ten-Fathom Bar, one of the few mini-wall dives in Florida, with a nice wall that drops from 30 to 130 feet. And of course the wreck diving off Key West is legendary. The 500-foot long USNS General Hoyt S. Vandenberg, the second-largest ship ever sunk as an artificial reef and dive site lies with her bottom at a depth of 140 feet just 6 miles SSE of Key West.  Or check out the 187-foot Cayman Salvager, sunk to 90 feet and featuring incredible visibility and a crew of resident Goliath Groupers that run up to 600 pounds. These are only two of literally hundreds of wrecks that are accessible from Key West.
The fact that Key West and the surrounding waters lie within the Florida Keys National Marine Sanctuary makes for a relatively pristine underwater environment that easily rivals more far-flung and exotic dive sites. Whether reef or wreck diving, it is common to encounter hundreds of species of marine life on each dive, not only the usual colorful tropical reef fish, eels, and rays, but also turtles and large game fish like Amberjack, Barracuda, Grouper, Jack Crevalle, and Cobia. If you are lucky, you may even spot a Shark.
The depth of experience and local knowledge of the Key West dive operators also sets the Key West dive experience apart. Many of the captains and guides can boast multi-generational backgrounds as Florida watermen, and it is common to dive with people who have grown up diving the Keys. This deep knowledge allows for great site selection that makes the most of any given set of weather and water conditions.
Top quality people, boats, and gear, along with the awesome visibility that Key West is known for, will make each trip out a world-class dive experience. Don't miss the opportunity to dive Key West.
Read More