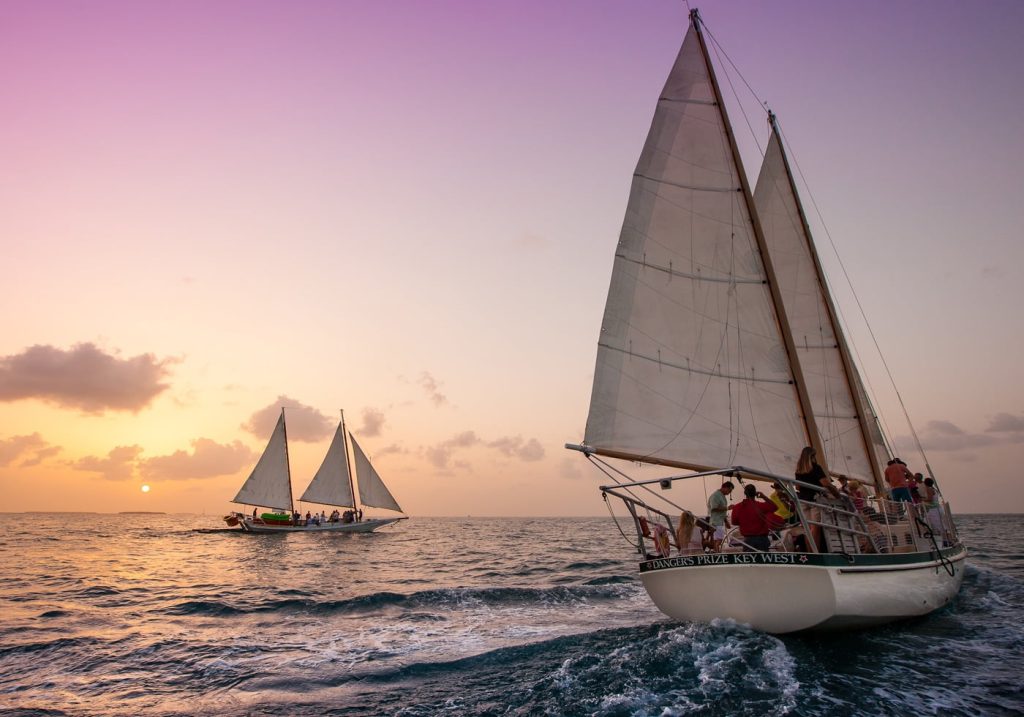 From Key West, to Maui, to Tahiti and beyond, the sunset cocktail cruise is a tropical vacation resort staple. Some may even claim that it has been overdone… maybe they want to brush the experience off as "too touristy" or "just for old folks" or "boring". The way I see it, after years of living right at beachfront Waikiki, along with visits to Key West, remote islands in the Philippines, and a variety of quite nice spots in southern Thailand, this is a lack of wisdom talking. Because the fact is, if only one were able to, it would be perfectly right and proper to cruise out on a beautiful sailboat for a sundowner each and every single evening! In fact, I would like to make it a requirement.
A good sunset cruise is something really special, and it makes for an unforgettable experience. Something about the tropical evening sky brings people together in a shared experience of nature's grandeur. Sunset over the sea in tropic climes is an event that is celebrated at far-flung spots around the world, from Mallory Square in Key West, to Kalakaua Avenue in Waikiki, out to the beaches of Ko Tao Thailand. It is only that much better when viewed from the water, with no obstructing buildings, traffic noise, or pavement heat to mar the mood. For lovers, wine lovers, and sailors, a Key West Wind and Wine sunset sail is definitely a vacation must-do, and Cool Key West is happy to be able to offer a Key West sunset cocktail cruise that is a truly upscale experience, with a small party on a lovely sailboat, a variety of fine wines and champagne, quality craft beers, and delicious hors d'oeuvres.
You will depart the harbor on a graceful schooner as evening lowers. The gentle breezes and lapping of the blue water calm the heat of the day as the sky begins to color, and you lift your glass with loved ones and new friends to celebrate the good fortune of being in this unique moment. The sun seems to pause as it hangs just over the horizon, and you become conscious of the movement of the boat as it slips almost silently through the light chop stirred by the evening breeze. Just as the red disk touches the water or the lowering clouds flame where they meet the sea, the party goes silent except for the sound of cameras, and couples pull each other close. This moment, though seemingly far less active and exciting than many of the other activities you will engage in during your Key West visit, is one that will stay with you for years.
Now, for those who are in the mood or of the persuasion for something a bit more along the lines of a party cruise, with a bigger crowd, louder music, and stronger drinks, that can be done too. Maybe start the evening with some dancing, or dinner out on the water? Everything is possible with Cool Key West as your sunset cruise hook up. It might even be a good idea to try several cruises and avoid the risk of missing out on anything.
Just go to Cool Key West and click on Key West Sunset Cruises. Everything you need to know is right there, and booking is simple and secure. Do it from your mobile device for the ultimate in convenience. You only live once, so don't wait – treat yourself to an on-the-water happy hour combined with the famed Key West sunset on a Key West Sunset Cocktail Cruise.
Read More