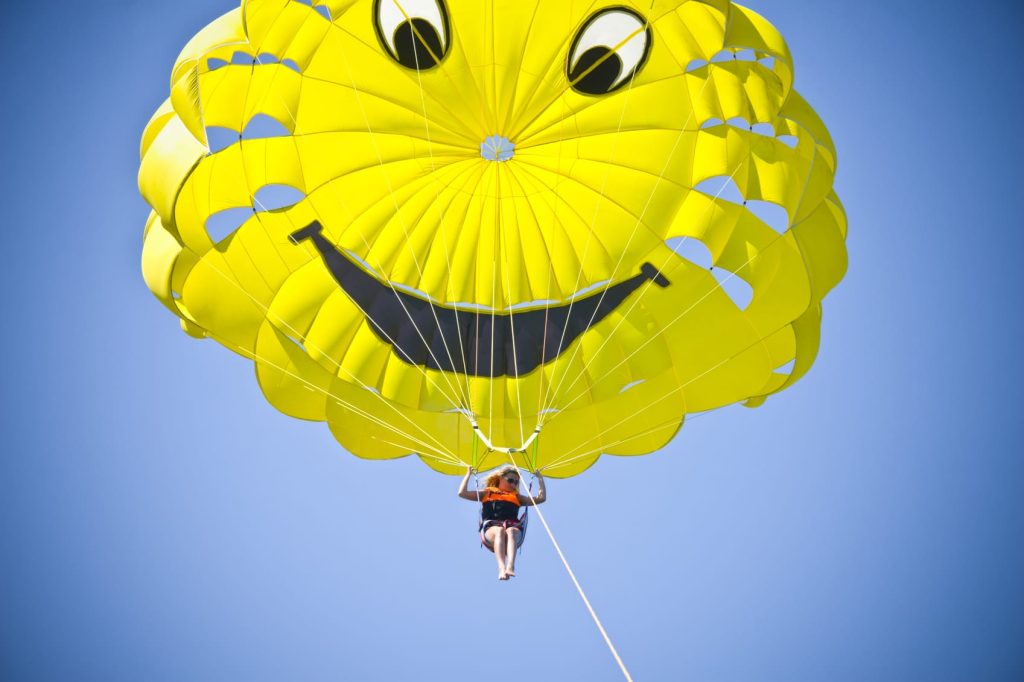 There is a lot to do in Key West, enough to fill several vacations. This is especially true of the Key West water sports scene that is arguably the island's top attraction. Snorkeling, sailing, diving, jet skiing, kayaking, and just plain playing in crystal blue waters only cover about half of the wet and wild fun that is available offshore Key West. So many choices, and for most folks, so little time. Well, I am here to tell you that you can have it all and for an amazing price to boot – just get on board a Cool Key West Ultimate Adventure!
The day starts out in the morning as you gather at the Key West catamaran dock with your beach gear and an excited group of fellow fun-seekers. The vibe is up-beat, kids are happy, and the boat is really cool. A 65-foot sailing catamaran perfectly set up to host an awesome play day, I found it to be far more spacious than what I had come to expect from past experiences with various types of dive and tour boats. Three levels and a wrap-around deck give plenty of room to walk around or relax in either sun or shade. And the craft is very stable and solid underfoot.
I have to say one of the best things about this package is the generous and delicious supply of food and drink. As soon as you leave the dock for the 7-mile trip out to the reef, you get to load up a breakfast plate with fresh fruit, pastries, bagels, and of course your morning coffee. Particularly if you are traveling with a family, you know what a blessing it is to be able to feed everybody quickly and conveniently, and there is ample shaded table space to sit down and enjoy the start of the day in comfort. In my opinion, the breakfast, and the great lunch buffet that includes Southern fried chicken, sandwiches, potato salad, and all the fixings of a killer sea-going picnic, are almost worth the price of the trip themselves, especially considering the tab for a meal at most of the restaurants in Key West. But more importantly, the meals really add to the party atmosphere of this 6-hour outing, and offer a chance to sit down and chat with new-found friends while enjoying the spectacular scenery.
Don't get too full though, because you will be getting in the water before you know it. When you reach the reef, the crew passes out good quality snorkeling gear to all who wish to partake, and an easy-to-negotiate slide ramp leads down to the water. Even first-timers will have no problem at all experiencing the amazing world of America's only living coral reef because there is instruction and help available, along with flotation vests and other swimming aids that can be used as desired. The variety of coral, the multi-colored fish, and other marine life will make you feel like you are in a program on the Animal Planet channel, and I guarantee that it will be an unforgettable adventure.
An hour of snorkeling and the trip is just getting started because when the catamaran leaves the reef, you embark on a 45-minute sail over to the Gulf of Mexico where a private floating platform serves as a dock and fun center that offers jet skiing, kayaking, parasail rides, and a variety of water toys to bounce, dive, climb, and slide from. At this point, I was fine with staying back a few minutes in the shade to digest the lunch served on the sail over and have one more cold drink while the younger set got a head start on the action. The boat is so well-appointed and comfortable, with clean bathrooms and freshwater rinse showers, nice seating, and generous sun-bathing space, that just hanging out onboard enjoying the view and taking pictures is a great time in itself. As the day comes to a close, you get to enjoy a nice cruise back to Key West while unwinding with complimentary beer and wine.
Considering the variety of activities available, from extreme action parasailing to having a beer in the shade, this really is the ultimate trip in terms of being able to please everyone in your party. It is definitely unbeatable for the price, and is the only way to go if you are going to be in town for just one day, for example, if you are off a cruise ship. However, if you will be on the island longer, a trip like this will let you try several things, then find the ones you would like to spend some more time doing on following days. Cool Key West offers easy access to the Ultimate Water Sports Adventure, and great discounts and special offers to boot. Give this one a try for sure – it will be the highlight of your Key West vacation.
Read More