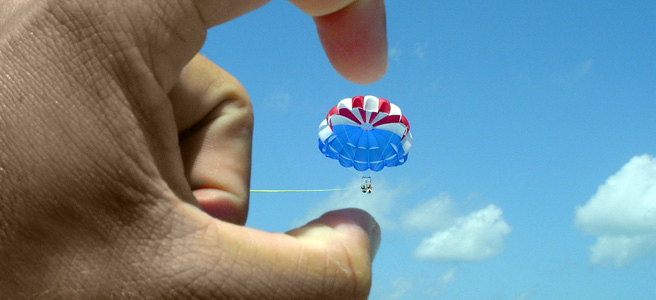 See the entire island of Key West and the surrounding sapphire blue waters from the air as most visitors have never imagined. You'll soar 300 ft. above the water (that's 200 ft. higher than the tallest building in Key West). Panoramic vistas of Mallory Square, the marine sanctuary and Key West harbor are among the spectacular sights to be seen. This breathtaking birds-eye view offers opportunity to witness dolphins playing in the surf along with other marine life (turtles, nurse sharks, rays, reef fish, even an occasional manatee) from high above. You may even share the air with some colorful tropical birds as they fly by.
Parasailing might well be the ultimate method of sightseeing while visiting Key West, the only way view it all at once is from the air. Additionally, it is also an exhilarating thrill ride that will equal (or exceed) any attraction found at an amusement park.
Parasailing is a safe and popular sport in which you are securely harnessed to a parachute-type canopy, known as a "Parasail," and set aloft in the air. The Parasail is attached to a towrope, which is then pulled along by a boat. When the speed exceeds the stalling speed, the parasail rises, hoisting the pilot up into the air. Anyone can parasail and no special skills or training are necessary.
While parasailing, you can rest assured that the top-of-the-line harness and gear you use will be safe, comfortable and fun. With courteous and professional instruction plus gentle, dry takeoffs and landings, gently ascending and descending directly from the boat, you will find this unique parasailing excursion to be an thrilling yet safe way to have the ultimate Key West Adventure. You can stay dry or arrange to take a dip, making a splash in the sparkling, clear, turquoise waters.
Our parasailing adventures offer solo (single), tandem (double) and triple flights, so you can have someone to talk to and share the experience of floating above this island paradise if you so choose.
Don't forget to bring a towel, sunscreen, and a camera. Digital photos of your parasailing adventure are also available for a small additional charge.
Read More