Bring a Friend When You Visit Dog-Friendly Key West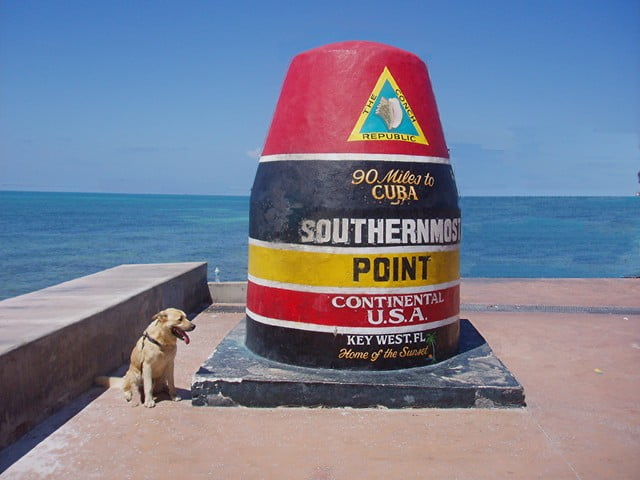 Key West has gone to the dogs these days. You see them everywhere – capering in costumes, strolling the streets, reclining in doorways, resting in restaurants, tucked under bar stools, and of course splashing in (selected) surf. All days are dog days in dog-friendly Key West, because most everybody is chilling on the tropical vibe, and when people relax, they like to be hanging with their best friends.
Well-behaved dogs are allowed most everywhere you go in Key West, including some of the nicer eateries and upscale resorts. When you are planning your Key West visit and considering bringing your pet, a quick Google of "pet friendly Key West" will bring you all the resources you need to get an idea of what your options are. Many of the national chain hotels such as the Hyatt, the Sheraton Suites, and the DoubleTree Grand Key Resort welcome pets and even offer facilities and amenities specifically for them. Some of the private or more upscale vacation rentals and B&Bs will also accommodate pets for a fee and/or with prior arrangements.
An Internet search will also give you an idea of the sorts of restaurants and tourist attractions that will welcome Fido. It is actually pretty easy to figure out a lot about the situation just by walking down the street. You will see people sharing outdoor eating and drinking spaces with their pets, browsing through shops with furry companions, and tipping back cold beverages with their buddies on guard under the table. In other cases, you may encounter dogs tied to bikes or other convenient objects, calmly waiting for their humans and either greeting or ignoring passerby. Key West locals are entirely inured to sharing many of their public spaces with 4-legged residents and visitors, as well as with a fairly eclectic variety of other pets.
The seaside scene for dogs is a bit more limited. There are only two officially sanctioned dog beaches in town. The most well known, to locals at least, is Dog Beach, next to the ocean view deck at Louie's Backyard restaurant and bar, 700 Waddell Avenue in Key West. This is a small pocket beach, mostly unsuited to human recreation but great fun for canines. It also has the great advantage of being close to a source of refreshment that will be well-appreciated by dog owners when playtime is finished, and pets are welcome too as long as they mind their manners.
Another place for Rover to see and be seen in Key West is the Higgs Beach Dog Park. Just across the street from Higgs Beach, the White Street Pier, and the Aids Memorial, this reasonably spacious fenced park features shade, benches, multiple water supplies, and separate areas for large and small dogs. It is not a bad set up overall, but a word to the wise is to consider the numbers and types of dogs present before committing to a play session there. At times, the risky combination of aggressive breeds and neglectful owners has been noted at Higgs, the only off-leash park in Key West. On the plus side, dogs are generally tolerated nearby, on the end of Higgs Beach to the east of the pier, and pets can often be seen romping with their owners along that shoreline.
For on-leash strolling, relaxing in the shade, and picnics, Fort Zachary Taylor is a nice choice. This National Historic Landmark features an ocean side park and grove, a rich helping of military history, and plenty of room to roam. Dogs are welcome in all park common areas as long as they are on a 6-foot maximum leash and kept under control at all times. Dogs are not allowed on the beach, in buildings, concession areas, or playgrounds.
While local pets are for the most part acclimatized, visitors need to be aware that the hot and humid weather in Key West can be hard on tourist doggies. Be sure to allow plenty of time in the shade, and generous access to water. Never tie your pet in the direct sun for any length of time, and it goes without saying that a locked car is nothing but a death trap in a semi-tropical climate like that of the Florida Keys. Also remember that the streets in downtown Key West can be busy, and many of the drivers and scooter riders are from out of town and may be distracted. Beyond these few precautions, with a bit of planning, Key West is a great spot to visit with your pet, and you will both have a great time in dog-friendly Key West.
Read More